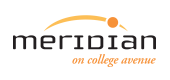 Frequently Asked Questions
Welcome Home to The Meridian on College Avenue, conveniently located near campus, stores, restaurants and more! We are happy you've decided to live with us. Our student community will provide you with a convenient location, spacious rooms, and awesome college living! Please see below for our most frequently asked questions.
Leasing
How to Lease:
How do you go about leasing an apartment?
1. Contact us:
Submit an online guest card at https://www.meridianoncollegeavenue.com or call the office at 814-231-9000. Walk ins are welcomed as well!
2. Take a tour:
After submitting a guest card or contacting the office, a leasing specialist will schedule a tour with you! Walk ins are always welcomed, however scheduling an appointment assures the most prompt and personalized service.
3. Select rate:
First, choose from our available floorplans. Then, let us know how many tenants will be living in the apartment, as this determines the rental rate. We also offer roommate matching for anyone who does not already have roommates.
4. Apply:
The application link is typically only live on our website in October, after that, a leasing specialist will email you the application link at your request. The application must be completed by the primary resident. There will be a space to enter a guarantor's information (co-signor, parent or guardian- somebody over the age of 25 that can guarantee rent will be paid). A link will automatically be sent to the guarantor once the primary application is complete.
5. Sign:
Once the application is completed by both the primary resident and guarantor, the background screening will be processed. Once approved, we will generate a link to the lease agreement. Once the lease is signed by both parties and executed by the Property Manager, then congrats, your student is officially a resident of the Meridian!
Lease Apartment Info:
How does the lease work?
1. We offer individual leases
Leases are joint and several in the aspect of damages, but all are Individual Rent responsibility, meaning that you will never have to worry whether a roommate is paying their rent as it will not reflect on your account. Damage/Cleaning costs are split equally among all residents on the lease unless otherwise requested in writing by all residents.
2. Renters insurance
Per the lease, renter's insurance is required. You may purchase a policy through our resident portal or go through an outside agency. Renter's insurance protects tenants if something happens in the apartment that causes damage to you, your personal property, or the property in general.
3. Lease terms:
Lease Terms new term goes August to July.
4. Who signs
The primary resident and the guarantor will need to sign the lease agreement.
5. Roommate changes:
It is possible to sign roommates out of the lease and add somebody new before the "Roommate Deadline". Time sensitive dates change from year to year and this information is available in the rental office.
6. Screening criteria
Each primary resident is subject to a routine criminal background check.
7. Early termination
In order to terminate a lease early, we offer what is called a "re-rental". The resident would need to fill out all necessary paperwork and find a replacement for themselves. The new person would need to apply and sign a lease agreement. There is a $300 break lease fee associated with re-renting. Re-rentals are only offered by semester (Aug. through Dec. or Jan. through July.) Paperwork for a Spring re-rental will not be accepted after February 28th. The Meridian does not offer re-rentals for just the summer months.
Cost
What are the associated costs with this process?
Who pays for what?
Water, sewer, trash removal, and internet are included in the rent. Residents are responsible for electricity and cable, although cable is an optional service.
Rent includes?
Water, sewer, trash removal, and internet are included in the rent.
Upfront fees?
Upon completing the application, we require a $55 non-refundable application fee as well as the $500 security deposit.
When is rent due?
Rent is always due on the 1st of the month with a grace period to the 5th of the month. If rent is received after the 5th of the month a $40 late fee will be assessed. Another will be assessed if the rent is not received by the 11th of the month. If mailing a check, it must be postmarked by the second of the month.
Security deposit
Each resident must put down a $500 security deposit. This deposit is held in escrow until the end of the lease. After the apartment is inspected and any cleaning/damage charges or outstanding balances are deducted, a check for the remainder will be mailed to the address requested by the resident.
How to pay?
There are several ways to pay rent! You may pay via the resident portal on our website, the resident portal app on your smartphone, mailing a check or money order, or dropping it off in person. No cash is accepted in the rental office. Paying by check or e-check is always free; however, there is a 3rd party convenience fee associated with the use of a credit or debit card.
Move In & Move Out
How do the move-in and move-out processes work?
Address
Building 1- 636 E College Ave,
Building 2- 646 E College Ave,
Building 3- 747 E Beaver Ave.
State College, PA 16801
Keys
We require all tenants to sign for keys at the time of move-in! Be sure to bring a photo ID!
Items to bring
An extensive list is sent home in the move in packet well before the move-in date. NO CARTS AVAILABLE FOR MOVE IN, IF YOU WANT A CART YOU MUST BRING YOUR OWN!
Important dates
Move in for 2023: August 17th, 18th and 19th from 8 a.m. to 5 p.m. Parking leases start 8/20/23. Contact the office if you need your parking space before this date.
Renewal
Current residents get the first option to renew and renewals are typically sent out in October. If you and your student choose to renew the lease, it will be extended through the following year and they will not need to move. Be sure to renew before the deadline to ensure the unit is still available.
Move in early
An earlier move-in date is only available in renewing, or as-is, units. No exceptions.
Services
What services are provided/available to my student?
Lockouts
Must call 814-231-9000 and follow the emergency prompts. A $50 fee will be assessed to each lock out call made after hours.
Work orders/maintenance
Work orders for maintenance can be submitted online. For after-hours emergencies, residents MUST call 814-231-9000 and follow the emergency prompts.
Building access
To ensure our buildings are safe and secure, everyone entering needs a key or code.
Important #s
Our office number is 814-231-9000. This is the number used to reach a staff member, report an after-hours maintenance emergency, or request an after-hours lockout.
Laundry
Each building has its own on-site laundry. Buildings 1 and 2 offer coin operated laundry facilities, while building 3 facilities require a loadable laundry card.
Courtesy patrol times
On-site courtesy officers patrol the premises throughout the week and weekends from 10pm to 4am and on special occasions in which a large influx of people is expected. Remember that any parties must always be pre-registered with the rental office at least 24 hours in advance.
Other Questions
What other relevant facts do I need to know as a parent/guardian?
Utilities
Tenants are responsible for the electricity bill. One tenant establishes an account in their name through West Penn Power, who may require an additional co-signer or deposit. When this is done, one person must provide the office with the electric account number in order to move in.
Cable service
Cable is optional and is the tenant's responsibility, but we do recommend Windstream.
Furniture
All units are fully furnished. Couch, loveseat, end table, coffee table, entertainment center, 1 bed and one dresser per tenant and UP TO 4 desks. Example- 3-person leases get 3 desks, 4-person leases get 4 desks, 5 people lease get 4 desks, no more than 4 desks per apartment provided. You may also bring any of your own furniture. Any supplied furniture removed from the unit must be replaced by lease end or tenants will be charged for the missing piece(s).

Apartment Furniture Dimensions:
Couch: 79.5" x 36" D x 32 H
Love Seat: 57.5" W x 36" D x 32" H
Coffee Table: 41.5" L x 24" W x 17 H
End Table: 24" L x 24" W x 21.5" H
TV Stand: 42" L x 22" W x 32" H
Dining Table: 44" L x 30" H
Bed Size: Twin Regular
Desk: 22" W x 42" L x 38.5" H
Dresser & Top: 18" W x 36" L x 38.5" H
Bed size
Beds are regular twin sized.
Housewares
No housewares are provided. Tenants should coordinate and bring all necessary kitchen, bathroom, and bedroom housewares.
Appliances
All major appliances are supplied, including microwave.
Services offered
24 hr. maintenance, weekend courtesy patrols, and an on-site rental office.
Transportation
We have a CATA Bus White Loop stop on-site, which is free to ride and will get your student to campus quickly.
Parking info
Parking is available in our garage at an additional cost. All spots require a 12-month lease that can be paid in full or on a monthly basis.
Pets
The Meridian is a pet free community.
Amenities
Our residents have access to a fitness center, tanning beds, study lounge, on-site ATM, on-site laundry, and available on-site parking.
Packages
Depending on the carrier, packages will be placed in a parcel locker or left at the door.